NANTAHALA RIVER RAFTING TRIPS AND PRICES
Outsanding Adventure, Extraordinary Value
NANTAHALA RIVER GUIDE IN BOAT RAFT TRIPS:
A guide-in-boat raft trip is one in which a guide is in your boat during your trip down the Nantahala River. He/she will sit at the back of the raft & guide the boat. A guide in your boat can provide the navigation of the Nantahala River and can provide paddling power!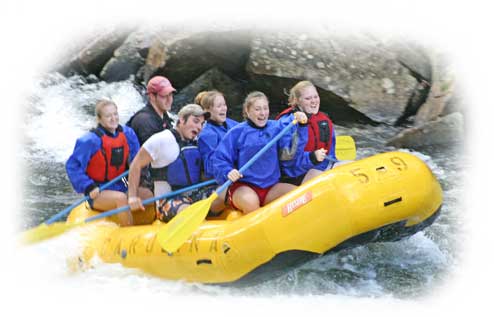 NANTAHALA RIVER GUIDE ASSISTED RAFT TRIPS:
A guide assisted raft trip is one in which a guide or guides will lead a group of boats down the Nantahala River. One guide will take from 1-12 people. Two guides will take from 13-32 people. There will be an additional guide added for each 20 additional people to a trip after 32. If there is only one guide on a trip he will lead the boats down the Nantahala River. If there is two guides on a trip, one leads the trip and the other follows in the back boat. When additional guides are on larger trips they will be located among all of the rafts on the trip.
NANTAHALA RIVER NON-GUIDED RAFT TRIPS:
A non-guided raft trip is one in which we provide all equipment and transportation to and from the Nantahala River, and the rafters go down the river on their own without the assistance of a guide on the Nantahala River itself. A guide will assist with pre-trip instructions before you go to the Nantahala River.
NANTAHALA RIVER FUNYAK TRIPS:
A funyak trip is a trip down the Nantahala River in our inflatable kayaks or "duckies". You may choose a one-man funyak or a two man-funyak. These boats are easy to maneuver and they are lots of fun!
QUALITY MATTERS WHEN YOU'RE RAFTING!
THERE IS NO SUBSTITUTE FOR EXPERIENCE:
FAMILY OWNED BUSINESS
TRIPS FOR ALL AGES AND ABILITIES
MODERN SELF BAILING RAFTS
EASY PARKING
COMFORTABLE OUTFITTERS STORE
MODERN FACILITIES AND FRIENDLY STAFF
CERTIFIED, SAFE FUN WHITEWATER GUIDES
FULL RIVER TRIPS
LUNCH OPTIONS
PROFESSIONAL PHOTOS AT NANTAHALA FALLS!
BOOK NOW WHILE THE LIMITED TIME SPECIAL PROMOTION IS RUNNING AND GET OUR
SPECIAL DISCOUNT RATES FOR A TRIP ANY TIME DURING THE CURRENT SEASON!
Reservatins must be made online to get these special discount rates. Book now to secure your trip at these great prices.
"Thank you, for a wonderful family vacation! We enjoyed our trip to the mountains and all of the fun outdoor activities that we did as a family. We're going to make the North Carolina trip a family tradition, and we will see you again next year!"
SPECIAL DISCOUNT RATES FOR THE NANTAHALA RIVER:
RAFTS
UNGUIDED:
GUIDE ASSISTED:
GUIDE-IN-BOAT:
REG:
SALE:
REG:
SALE:
REG:
SALE:
1-15 people

$29.99

$23.99

$51.99

$45.99

$51.99

$45.99
15-24 people

$27.99

$22.99

$47.99

$37.99

$48.99

$38.99
25-49 people

$25.99

$21.99

$42.99

$32.99

$45.99

$35.99
45-59 people

$23.99

CALL

$35.99

CALL

$43.99

CALL
60+
groups and Youth Camps call 828-488-6345 for custom discount quotes.
caroli

FUNYAKS OR DUCKIES
REG:
SALE:
Single Funyak

$41.99

$25.99 per boat
Double Funyak

$29.99

$18.99 per person


Whitewater Funyak paddling on the Nantahala River

Click here for the RESERVATION REQUEST FORM
Rates are $3.00 higher on Saturdays.
Add $3.00 more for peak Saturday rafting fees in July and August. All prices are plus 9.5%. All equipment provided, including class 5 life jackets, paddles, boats (self bailers too!), and transportation to and from the river from the raft outpost building.
Carolina Outfitters offers a second trip (non-guided) down the river on the same day for ½ price! This offer does not apply on "cap Saturdays" from mid July through August.
MEMORIAL DAY SPECIAL
In honor of our Veterans, and in appreciation of their military service, Carolina Outfitters invites veterans and active duty military personnel to raft free on Friday, Saturday, or Sunday of Memorial Day Weekend! Thank you, for your service to America. (Must have military ID or proof of service)
NO EXTRA CHARGE FOR SELF-BAILING RAFTS AT CAROLINA OUTFITTERS!
TRIP TIMES: 10:00 A.M., 11:30 A.M., 1:30 P.M., AND 2:30 P.M.
TRIP ARRIVAL TIMES: PLEASE ARRIVE AT THE RAFT OUTPOST BUILDING 15 MINUTES PRIOR TO TRIP TIME. (The raft outpost building physical location is: Carolina Outfitters Rafting, 715 U.S. Hwy 19, Topton, N.C. 28781).
GPS COORDINATES:

Rafting Check-In:

North 35 degrees, 15 minutes x 19.5 seconds
West 083 degrees, 41 minutes x 37.5 seconds

Lodging Check-In:

North 35 degrees, 19 minutes x 44.4 seconds
West 083 degrees, 34 minutes x 49.8 seconds
Please note: children must weigh at least 60 lbs., or be at least 7 years of age to go on the Nantahala River Rafting Trip.
Get your reservations made while the special is running. You can call us and adjust the number of people in your party.
Please note that when taking the group discounts one person must be designated as the group leader and:
Collect the money for the entire group
Get each person in the group to sign the liability release waiver
Call in any adjustments to the group size
Present the money & waivers to Carolina Outfitters
The following group leader information is available for downloading and is designed to make your organizing job easy. It includes:
Download Group Sign-up Sheets
Download Liability Release Waivers
If you do not have the FREE Acrobat reader go here

.
RESERVATION REQUEST

Click here for the RESERVATION REQUEST FORM
Or Call 828-488-6345 for custom quotes or for reservations.
CANCELLATION POLICY

"Rafting the Nantahala was a blast! The people at Carolina Outfitters were great and our rafting guide made the trip so much fun!"
"Great river, great people, great service. We'll be back!"