NANTAHALA RIVER GEM MINE
AT NANTAHALA GORGE
The Lure of Gem Mining in Western North Carolina
Western North Carolina is well known as a gem capital of the world, and is famous for its natural deposits of rubies and sapphires. Both residents and visitors alike have followed the enticing and adventurous pursuit of gemstones for many years.
How does the lure of gem mining capture the imagination of so many? Maybe it's the fascination of the stories that Grandpa told about finding the pretty red stones in the spring and collecting them in a jar. Maybe it's the lure of finding a large and enormously valuable gem. Maybe it's the intrique of finding a gem and having it faceted for your own unique piece of jewelry, complete with a personal story. Maybe it's reading the media stories of visitors who have found the "big one" while mining on their vacation. Whatever the reason, Western North Carolina continues to attract gemstone enthusiasts by the thousands every year. They come in search of the precious stones, and many take home very successful finds!
THE STORY OF THE NANTAHALA RIVER GEM MINE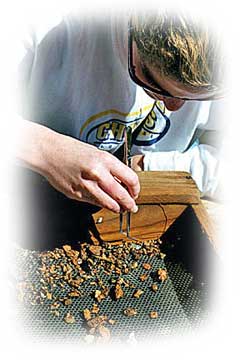 A gemstone mine was first opened to the public and operated at our site in the early 1980's. A small wooden structure constructed with rough sawn lumber was used as a mine building. The opportunity for gemstone mining was a big attraction to visitors in the area. Participants continued to find a big variety of valuable gems in great numbers, word spread, and the business grew. In 1997 the current Nantahala River Gem Mine building was constructed on the site, replacing the old structure, and providing a modern sales facility with the space for a better operation that included a wide variety of unique gifts and souvenirs for the convenience of our guests. A covered sluice area was constructed that provides comfortable mining for guests rain or shine. The sluice is lighted and allows summertime mining activity to extend into the hours after dark when demand is the greatest.
At Nantahala River Gem Mine the gemstone material comes from both the local area, and from mines all over the world. Gems and minerals do not all run together. They come from a variety of different mines, wherever that specific gem is found. Many of the mine sites are in remote and not easily accessible locations. The gemstone material is brought to our plant and packaged. It is then brought to our retail location at Nantahala River Gem Mine in the Nantahala Gorge for your pleasure and enjoyment. You may search for a variety of precious gemstones including rubies, emeralds, sapphires, garnets, topaz, amethyst, citrine, peridot, moonstone, rhodolite, aquamarine, turquoise, ametrine, rose quartz, smoky quartz, and a continuing variety of both precious and semi-precious gems. Gemstone miners are finding a treasure trove of 'cut stone quality' gem finds every season! Miners can place orders for cut stones based on their finds.
GEMSTONE MINING PRICES
Prices normally range from $10.00 to $45.00 and all rates in between, depending on which material you choose and from which mine.
CURRENT INTERNET DISCOUNT SPECIALS FOR GEMSTONE MINING
Reserve your gemstone mining adventure now while this special offer is running on our website, mention this offer when reserving, and get a free gem bag with the purchase of any gem bucket at the Nantahala River Gem Mine!
PLACE AN ORDER FOR FINISHED GEMSTONES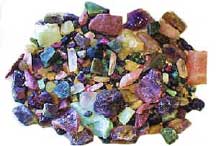 Bring your finds at the mine to the gem mine operator for a free identification and evaluation of your finds. The mine operator can tell you which stones are the best for cut stone orders. Guests can placed orders for cut/finished gemstones, and provide your specifications for the cutting style/shape etc. Look at the beautiful finished stones on display and choose your favorite styles and shapes for your cut stone orders. Your finished stones will then be mailed to your home in about 2 weeks, ready to be set into fine jewelry! Check out our cut stone promo rates for this season. Remember, AN INVESTMENT IN GEMSTONES IS AN INVESTMENT THAT YOU CAN ENJOY!
HAPPY GEM HUNTING!